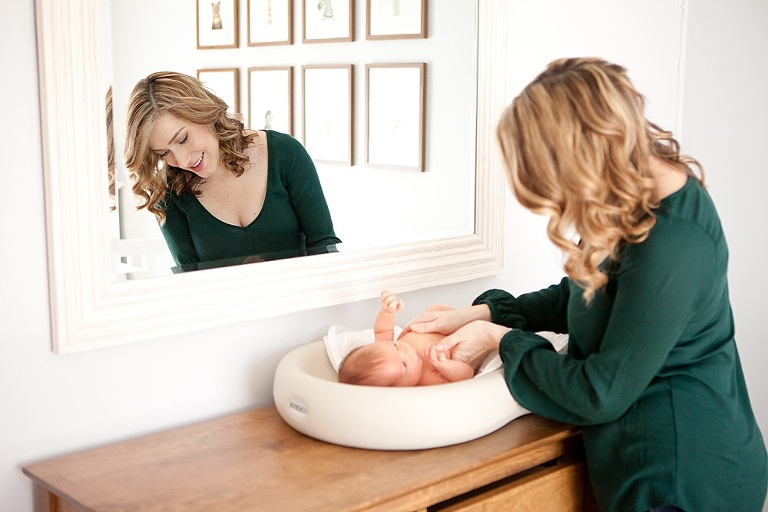 You've decided against the silly props and fancy backdrops. Instead, you want to capture images of your new arrival that are natural, relaxed, and candid. Yes!!! I'm so happy to hear that because that's my favorite way to shoot growing families who are welcoming a new baby into their lives! And the best place to do that is in your own little nest… so now that you don't have to rush around and struggle to get out the door to a studio for your shoot, I bet you're wondering how to prepare for your home newborn session! I want this to be as easy as possible for you and your family, so here are a few tips I've picked up over the years:
1. Pick your outfits early.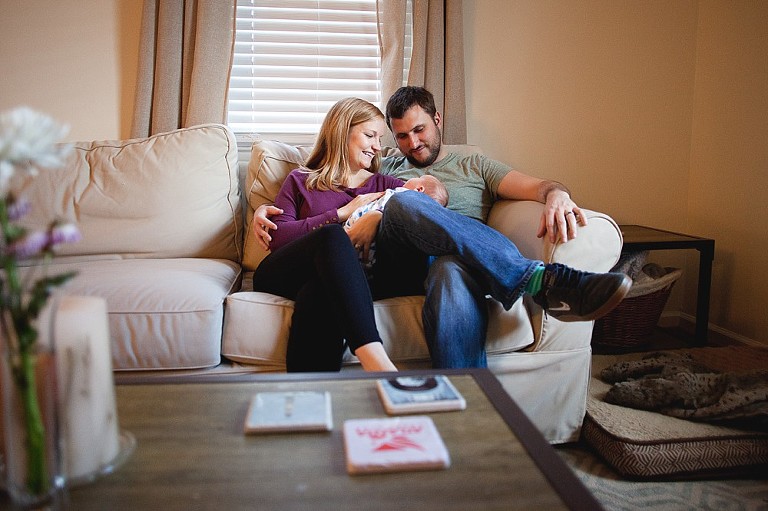 Check this one off your list before baby arrives! You can still wear the outfits you choose before the session, of course. It's not like they're suddenly off limits! But now you'll know the few pieces of laundry to throw in with your next load.
You'll most likely be in maternity clothes still (give yourself some grace here — it takes just as long to get the bump off as it did to put it on!). Tunics or flowy tops paired with dark jeans or black leggings are great for new mamas. Don't be afraid of colors and prints! They'll make you look fresh and bright (and way more rested than you are, most likely).
Babies always look awesome in classic onesies. I'd stay away from anything too cartoonish and opt for light-colored solids like white and gray or simple patterns like stripes. Newborn pants, hats and headbands are also great (the simpler the better for a classic look). I'm never a fan of polo shirts on dads (they look dated to me in photographs!) and think dads always look best either in button-down shirts or simple t-shirts, depending on how dressy or casual you'd like to look as a family.
Siblings can coordinate with everyone else through their color choices! I'm always open to talking about outfits and making you look your best while also feeling comfortable so please, please feel free to contact me before our session.
2. Clean the important areas and don't worry about the rest!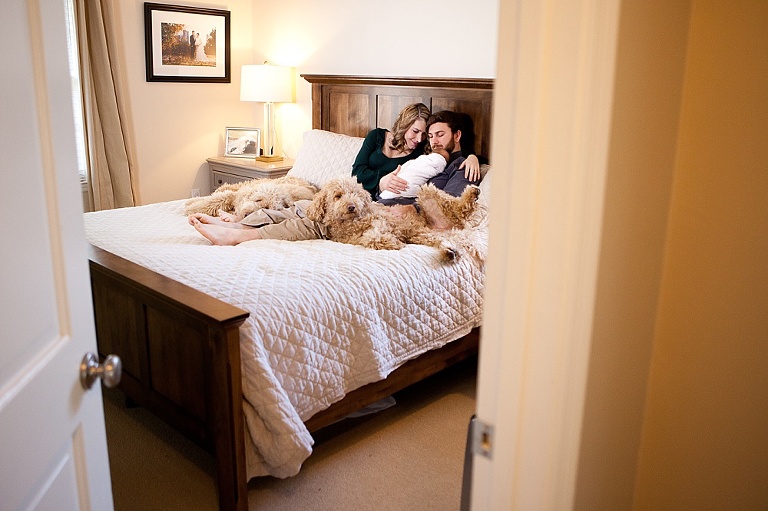 We'll be shooting in three primary locations: The master bedroom, the nursery and the main living area. Clear the clutter off your coffee table, make your bed and toss any laundry piles into the bedroom closet (I won't peak, I promise!). This is a great task to hand off to any helping hands you have visiting (hint, hint: grandma)!
3. Open all your blinds and pull back the curtains.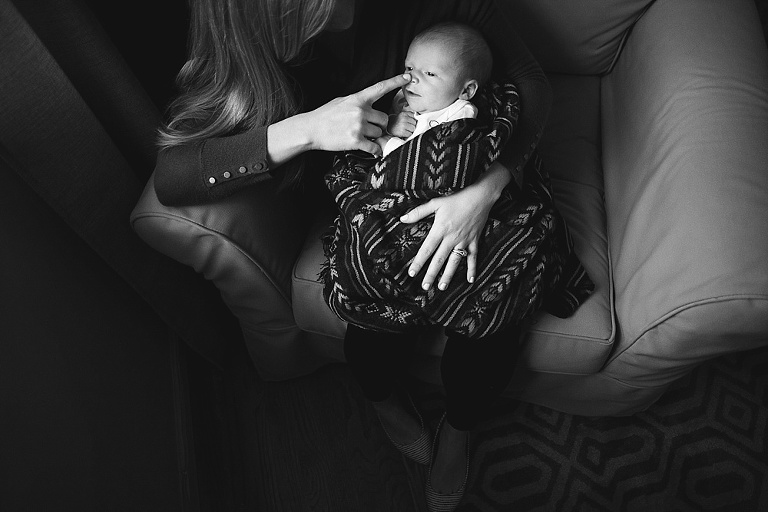 We want to let as much light in as possible! I use natural light during all of my in-home sessions, so opening the blinds and curtains before I arrive gets us off to a great start. I may also move you around to find the best pockets of light in your home, so be ready for that! If we need to readjust some things in the background, we'll tackle it then (again, don't feel the need to make your entire home spotless!).
4. Gather anything that's important to YOUR story.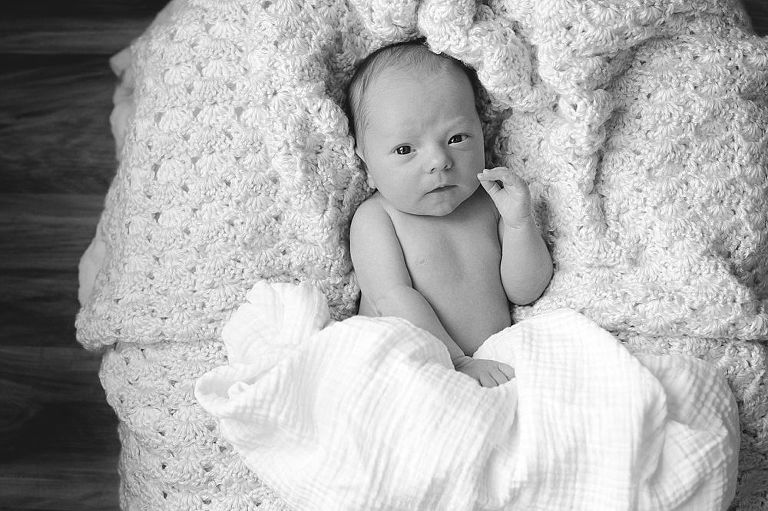 Start making a mental list of items you want me to photograph along with your family. I'm thinking special hand-me-downs, lovelies, handmade blankets, favorite swaddles, knit booties, etc. I'm not a fan of props for the sake of having props… but if there's something that's especially important to you guys? Then of course I want to capture that! You can make a little pile somewhere the morning of our session.
The blanket pictured in the image above was made for this sweet guy by his great grandmother before she passed away.
5. Take a few minutes for yourself before I arrive!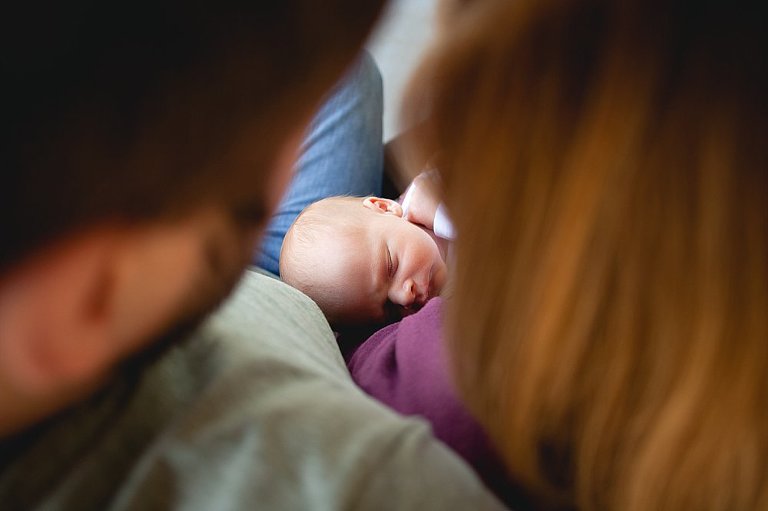 Hand that sweet baby over, grab a quick shower, blow dry your hair dry and throw on a little mascara. And MAKE SURE YOU EAT! Us moms always think about ourselves last. But the truth is, you're the heart of your family and you deserve to feel like a million bucks as we start our session!
6. Don't stress.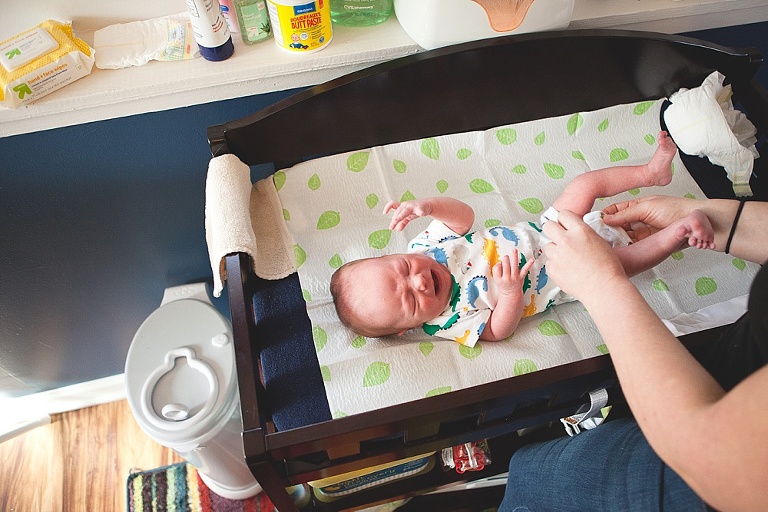 We'll be working around your baby and his or her schedule. If you need to stop and nurse or make a bottle, that's fine! I'll be capturing those beautiful moments of you caring for your baby. If baby has a diaper blowout, that's okay, too! You better bet I'll be capturing that as well because this is what parenthood is allllll about — milk, diaper changes and the occasional nap (well, it's occasional for us parents at least… new babies are lucky they get to sleep most of the day!).
Check out my recent in-home lifestyle newborn sessions by clicking here. Haven't booked yet but this sounds like your dream newborn session? Click here to shoot me a message and get on my calendar!
Save
Save